Solar Pool Heating Systems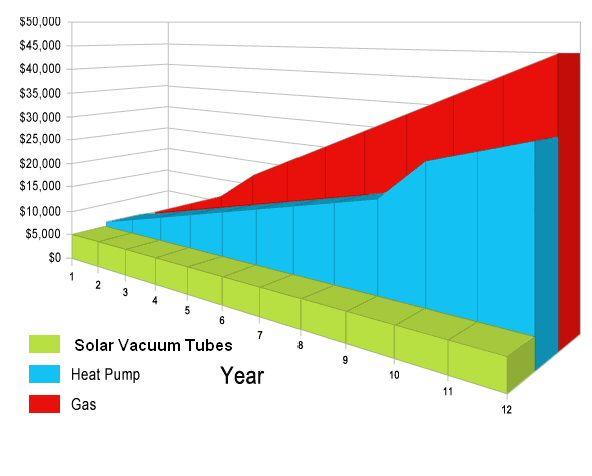 A Solar Pool Pump Station and Controller is used to move heated water (or glycol) through the closed loop pool heating system. The pool water is circulated through a heat exchanger instead of directly through the solar pool heater collectors. This means the harsh environment of the chlorine or salt water never is in contact with the solar loop. This is a critical factor in longevity of the solar pool heating system. A small solar pump activates the solar heating loop when the temperature of the collectors is greater than that of the pool water. The computer controller has many other features such as freeze protection which activates the pump when there is a chance of freezing to minimize damage to the system. It also has nocturnal cooling that will activate the solar loop during the night if the pool gets too hot.
Integration with domestic hot water and solar space healing:
The best part of our solar water heater is that they can easily be expanded to cover other areas of home heating. By pairing a solar pool heating system with a a solar domestic hot water system or solar space heating you can maximize your investment. Now when the cold season arrives and you shut down the pool, you simply switch your solar pool heaters into space heating and domestic hot water for the winter months, giving you 365 days a year of solar heating.
Closed Loop versus Open Loop:
Most other solar pool heating systems utilize the existing pool pump. Depending on the height of the collectors you may find the pool pump may need to be upgraded to overcome the head pressure (vertical rise). This also causes the pump to run harder resulting in more elecrtity cost and earlier failure. Our systems are based on a closed loop design and utilize a heat exchanger. A closed loop system has no vertical head pressure to over come. The gravitational pull back down is equal to the gravitationally head pressure. By using a closed loop system a much smaller circulation pump can be used and collectors can be mounted on higher roofs than with an open loop systems of the past.
3 Types of Integrated Solar Pool Heating Systems Videos
Solar Pool Heater

Solar Pool Heater + Hot Water

Solar Pool Heater + Hot

Water + Space Heat
Solar Pool Heat Exchangers:
Combination Solar Pool Heating:
Most pools are seasonal in the North/Central USA and Canada. However, a solar pool heater can be combined with a solar home heating system or solar water heating system to provide the maximum benefits and return on your investments. Solar works great in the winter and most pool owners simply shut there solar pool heaters. A combination solar pool heating system utilizes the solar in the winter for other applications such as home heating or domestic hot water. This is a great way to maximize your investment and allows you to be eligible for the vast number of solar grants that are not available for just solar pool heating applications. When designing a solar combination pool heating system, you need to used our more advanced TZ58-1800 30R heat pipe collectors that can be used in freezing climates as well as in higher operational pressures such as your main domestic water supply. Call us and we will help you build a complete solar heating solution for both your pool and home 1 800 317 9054.

wood fired pool heaters are great for off grid applications or to assist you with heating your hot tub or spa. They use a principle called thermosiphon where by water is heated up in the stainless steel double walled water jacket. The hot water rises to the top and out a port into the pool. Meanwhile cold water is sucked in through the bottom of the tub to be reheated. Simple, quiet, cost effective! These heaters can also be used wtih an existing pump system and can heat upto 100,000 BTU/hr.
TECHNICAL SPECIFICATIONS
Solar Pool Heating System Sizing*
| Surface Area | <100ft2 | 100ft2-200ft2 | 200ft2-300ft2 | 300ft2-400ft2 | 400ft2-500ft2 |
| --- | --- | --- | --- | --- | --- |
| SPH-1 | X | | | | |
| SPH-2 | | X | | | |
| SPH-3 | | | X | | |
| SPH-4 | | | | X | |
| SPH-5 | | | | | X |
*NOTE Pools larger than this should use multiple pool heaters a 1000ft2 pool should use 2 x SPH-5 systems in parallel. Sizes are approxamate, geographical location and the use of a pool cover will effect sizing.
Technical Specs
Specification
Heating Series Heat Pipe
TZ58/1800-20R
Heating Series Heat Pipe
TZ58/1800-30R
Number of tubes
20
30
Frame & manifold
Aluminium
Aluminium
Heating type
Copper Heat Pipe
Copper Heat Pipe
Lenth of Tube
1800mm
1800mm
OD of tube
58 mm
58 mm
ID of tube
50 mm
50 mm
Glass Thickness
2 mm
2 mm
Water Capacity
1.8 L (.4 gallons)
2.6 L (.6 gallons)
Weight dry
175lbs
220lbs
Weigh Wet
180 lbs
230 lbs
Max BTU/HR
5000 BTU/hr
7,517 BTU/hr
Pressure
116 psi
116 psi
Glass Vacuum Material
Borosilicate glass
Borosilicate glass
Vacuum
P<5x10 -3 PA
P<5x10 -3 PA
Frame
Included
Included
Warranty
10 years
10 years
Solar Pool Pump Station and Controller
SunRain Pump Station and ReSol Differential Controller are used for our solar pool heating systems, SunRain is the world's largest manufacturer of solar vacuum tube systems, and ReSol has been the leader in solar controls for the last 20 Years with over 2 million units in service world wide.
Description:
SunRain Solar Pump Station:
The SunRain Pump stations is a complete pump and fill system for the closed loop side of our solar pool heating systems. It include all the mechanical components to quickly commission a solar heating loop such as a Wilo Star15 energy efficient solar pump with 3-selectable speeds. A fill and drain hose connection for quickly pressurizing the system, a glass flow meter for setting the system flow rate, a manual temperature and pressure gauge for setting the working pressure, as well as a pressure safety release valve for added safety. The SunRain Pump station is 100% brass and comes in a fully insulated casing. It is available in both 110 VAC and 220 VAC options.
RESol DeltaSol AL controller:
The ReSol DeltaSol AL solar differencial controller has all the features needed to maximize your return on your solar pool heating system. This controller comes with 2 Pt1000 high temperature sensors with the option for a 3rd reference sensor. The system has a quick graphic display and an integrated VBus connection that connect to a DL2 data logger to provide real time and historical performance to any PC or smart phone. The ReSol Controller directly connects to the SunRain Pump station turning the solar pump on/off based on the solar collector temperature relative to the pool. Advanced features such as collector cooling, pool/tank cooling during the evening and freeze protection are all built into the AL controller.
Product Feature sheet:
Simple solar controller with extra convenience!

Solar controller for standard solar thermal systems!

If the collectors are warmer than the pool water by 4 degrees F or more, and the pool is below the selected desired temperature, the pump will be activated allowing heat collection fro the collectors to the solar pool heat exchanger. The heat collection stops when the solar sensor temperature falls to within I.5 degrees F of the pool temperature or the pool temperature exceeds the selected desired temperature.
Automatic Cooling (Field selectable option) If the collectors are cooler than the pool water by 8 degrees F or more, and the pool is above the desired temperature, the valve rotates allowing cooling via the solar collectors. The heat dissipation continues until the collectors rise to within 3 degrees F of the pool temperature or the pool temperature is lowered below the desired temperature.
Single Setting For Desired Temperature The Aqua Solar is set by a single dial adjustment with the desired pool temperature clearly indicated. The dial is calibrated with the temperatures from 70 degrees F to a high of 104 degrees F for quick and easy, user-friendly operation. The temperature set indicates the desired pool temperature. The Aqua Solar will automatically determine if the water should be heated or cooled, thus maximizing the solar system capabilities.
Terminal Strip Connections for input power, and sensor inputs. Controls also have industry standard 3 pin connectors for both forward and reverse valve actuator operation.
LED Display show the status of the entire system operation. Optional Valve Output on the Aqua Solar allow for a second zone of either a pump or a 3 way valve.
Recirculation Freeze Protection (field selectable option) turns the Aqua Solar output ON, directing warmer pool water through the collectors when near freezing temperatures are noted at the auxiliary sensor. The Aqua Solar allows recirculation when the aux. sensor falls below 34 degrees F and will stop circulation when the temperature rises to greater than 36 degrees F. Two 10K Ohm sensors are required for operation. One or more freeze snap switch sensors are also recommended if freeze recirculation protection is utilized. Important-See instructions before using freeze recirculation.
System Operation and Test Switch allows the user to manually override the automatic function of the Aqua Solar to verify the operation.