WiFi Thermostat - HBX THM-0300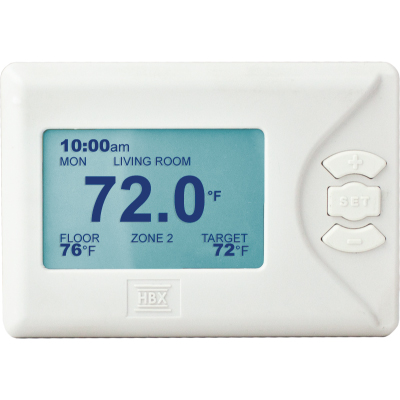 The THM-0300 is a 3 stage fully programmable P.I.D thermostat designed for hydronic radiant heating. The large, full graphic display is easy to read and simple to navigate using a push button keypad control. The thermostat can handle multiple heating and cooling modes within each zone and also includes a geothermal mode that can run 2- stage heating and 2-stage cooling for a 4-pipe geothermal system.
Designed for quick and simple installation, the THM-0300 utilizes only 2 wires (power and communication) to the ZON-0550, making it ideal for retrofits as well as the new installs.
The Wi-Fi Zoning system also offers features that fit your life style such as 5 and 2 day programming capabilities with 4 setbacks per day and away mode. With Away mode, you can set a customized temperature for each zone when you're not home or on vacation to maximize energy savings and reduce your utility bills. Turn off away mode before you get back and return to a comfortable home.
A single on board auxiliary sensor will allow for internal room, external floor, or outdoor sensing options.
NOTE: The THM-0300 is designed to work with the ZON-0550 Zone Control. It is not a standalone unit.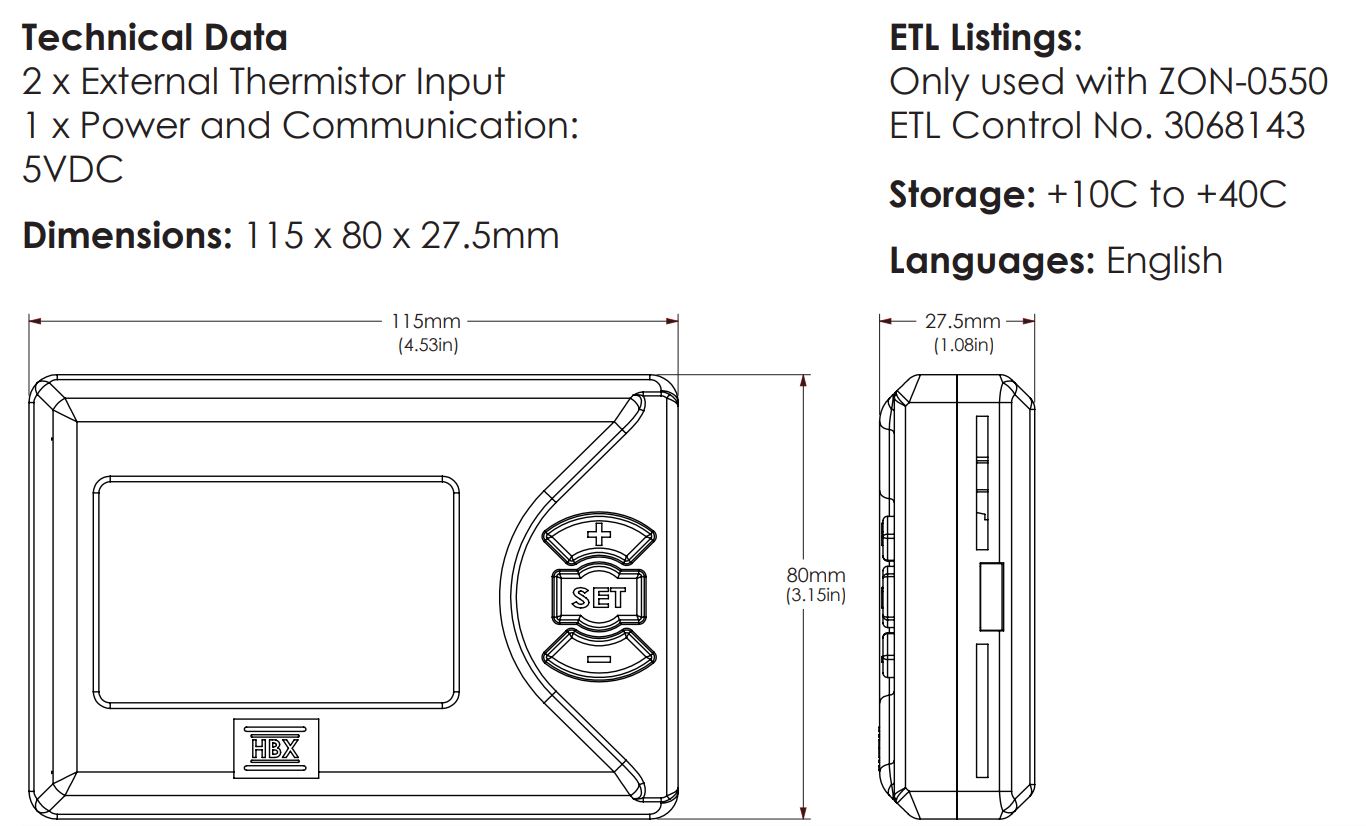 Features & Benefits
2 wire thermostat (power and communication)
5/2 day programmable schedule
Radiant Floor heating or cooling
Internal room, external floor or outdoor sensing capabilities
Intermittent fan control
Zone priority setup
Zone demand setup options (high temp, low temp, DHW, fancoil)
Customize zone name feature with HBX Zone App
Away mode (customized temperatures when you're not home to save on energy bills)
Up to 3 stage heating and cooling
Outdoor or floor temperature display
Geo Mode ( 2 or 4 pipe systems)
Automatic heat/cool changeover
Run temperatures in °C or °F
Large, full graphic display
Easy programming menus
Limited 2 year warranty
Made In Canada
Visit hbxcontrols.com to view the manual and other documentation.
| | |
| --- | --- |
| Dimension (L x W x H) | 7 x 5 x 3 Inch |
| Weight | 2 Pound |