Caleffi ZVR104 - Z-one™ Relay (four zone)
MULTI-ZONE VALVE CONTROL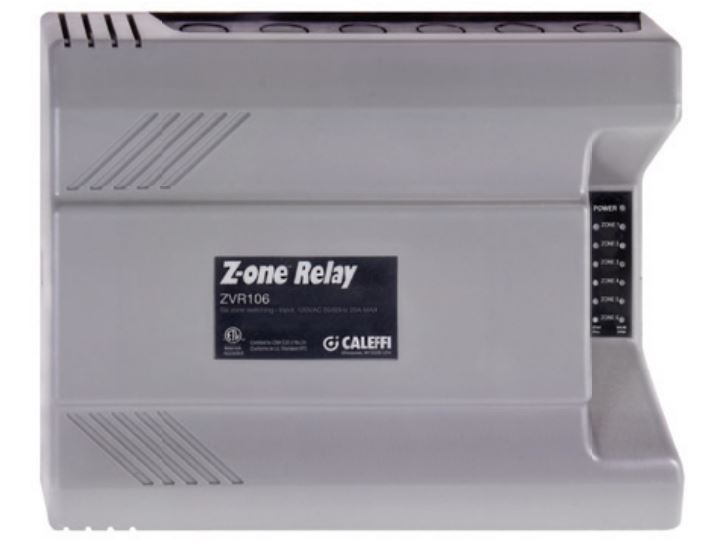 The ZVR104 is a multi-zone zone valve and boiler operating control for multiple zone hydronic heating systems. The ZVR104 interfaces with low voltage thermostats, or any other low voltage controllers having a switching action. The ZVR104 controls up to 4 zones. In addition, a system pump, secondary pump and a priority (DHW) pump can also be controlled. LED indicators provide functional status and easy system troubleshooting. The ZVR106 is a perfect match with Caleffi's Z-one™ motorized zone valves.
ZVR106 Internals (ZVR104 internals are identical minus 2 zone connections)
FEATURES:
Compatible with low voltage 2, 3, or 4 wire thermostats
R, W, C and T T COM dual labeling at thermostat terminals
Z-oneLink™ unlimited zone expansion to ZVR and ZSR series
Selectable priority with 1 hour time-out feature
System and secondary pump status selectable during ZONE 1 demand
Circulator will start only after the zone valve end switch is closed
Dry contact for ZONE 1 (DHW), capable of switching line voltage
Dry contact AUX for signaling a variable speed self regulated pump or other controls
Large terminal connections
High Capacity 40 VA standard for the 3 zone model expandable to 80 VA
Automatic resettable low voltage fuse
Controls system pump, secondary pump, and priority pump
Front LED Lights
100% Factory tested with 3 year warranty, ETL Listed / CSA Certified
Multiple Thermostat Configuration
(ZVR104 identical minus two zone connections)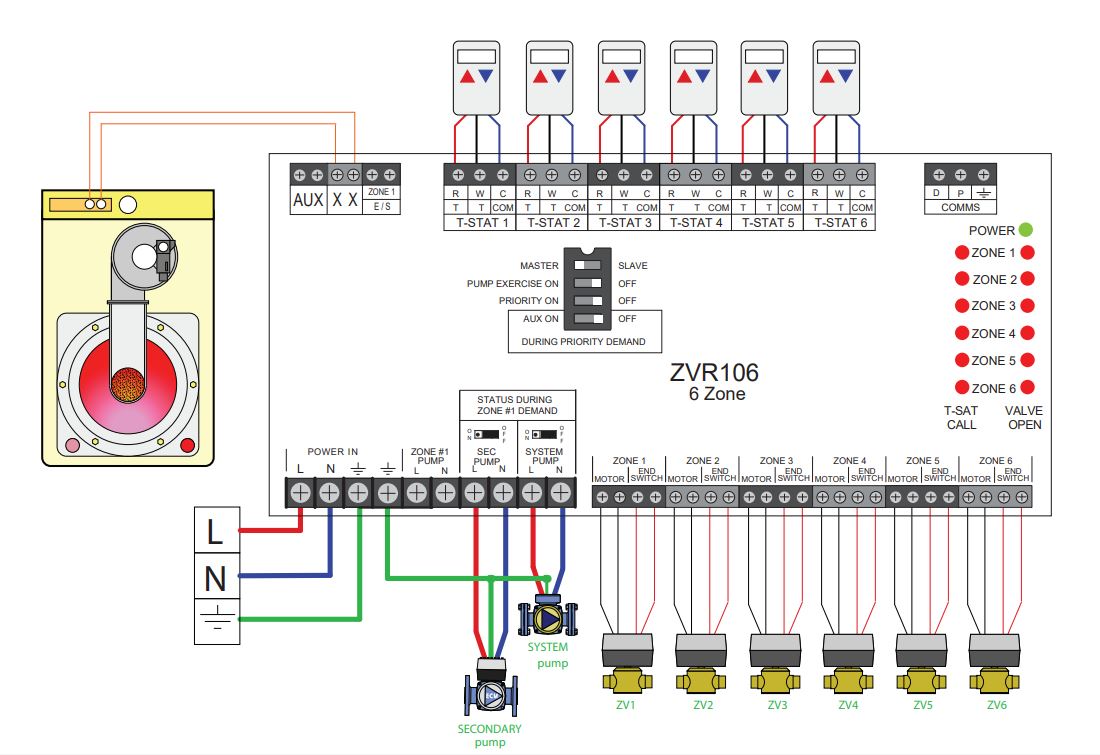 SPECIFICATION:
Power supply: 120 VAC, 50/60 Hz
Transformer voltage: 24 VAC
Maximum transformer load: 40 VA
Electrical switch rating: 20A Max Combined
Electrical switch rating, AUX, ZONE 1, XX: 120 VAC, 2A each
Electrical switch rating pumps: 120 VAC, 5A each
Resettable Fuse: automatic
Working temperature range: 32°F (0°C)—115°F (45°C)
Maximum humidity: 90% non-condensing
Approvals: Conforms to UL873 / Certified to CSA C22 No 24, listed by ETL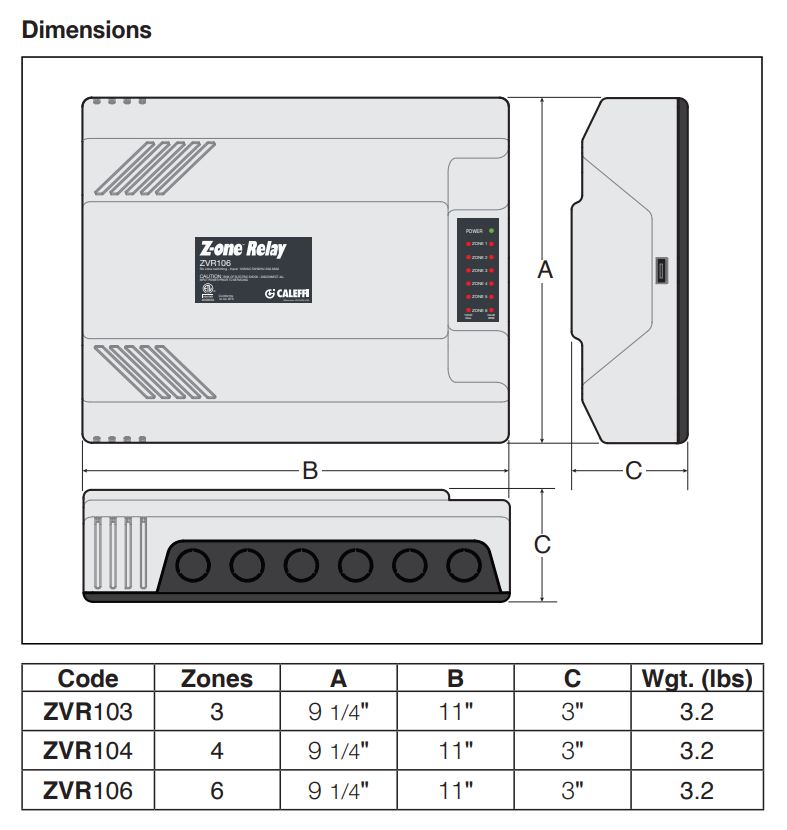 QUALIFY FOR A FIVE YEAR WARRANTY WHEN INSTALLED TOGETHER WITH CALEFFI Z-ONE ZONE VALVES.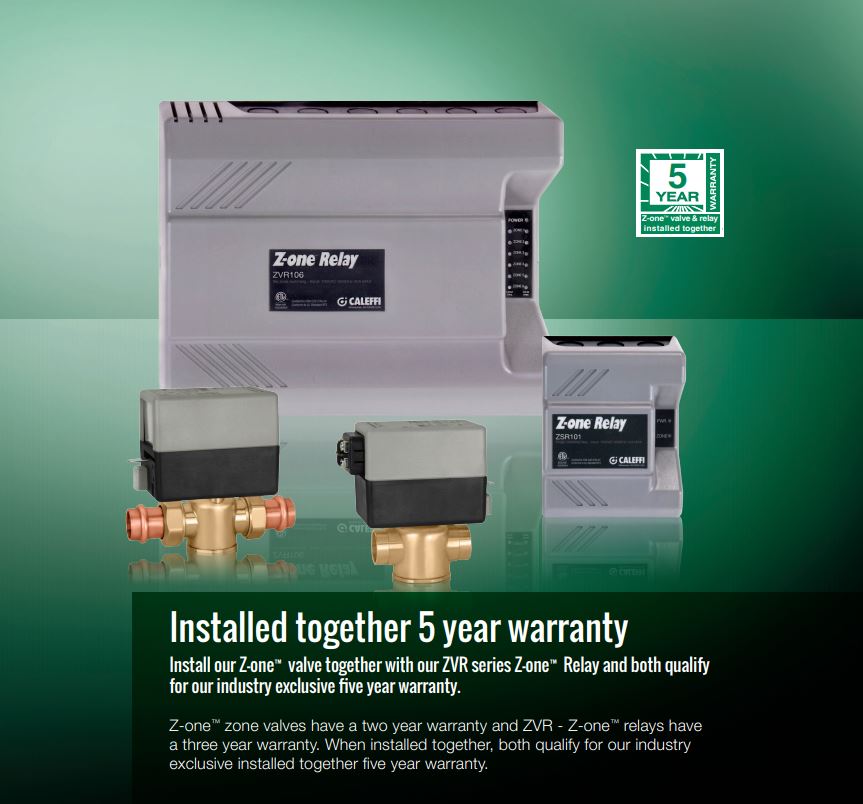 | | |
| --- | --- |
| Dimension (L x W x H) | 12 x 12 x 4 Inch |
| Weight | 2 Pound |