UNIVERSAL SOLAR ELECTRONIC TEMPERATURE CONTROLLER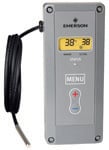 White Rodgers Universal Delta "T" Temperature controller for heating or cooling.
Download Product Specification PDF
FEATURES
Multiple Input Voltage
-40 to 220 F Set point Range
No Common Wire Required
Alarm Output with Selectable Delay
White Rodgers Universal Temperature controller16E09-101 replaces most mechanical and electronic single stage controls using an SPDT output relay. This controller offers the widest multiple voltage operating range: 24/120/208/240 VAC for truly universal replacement. Does not require a common wire when electrical load is greater than 2.5 amps - saving 30 to 60 minutes installation time when upgrading a mechanical control.
Offers a wider than industry standard set point temperature range (-40 F to 220 F) and adjustable differential settings 16E09-101 replaces most competitive mechanical and electronic refrigeration controls. Comes with alarm output with Selectable Delay which prevents false alarms.
No Common Wire Required (Electrical load must be greater than 2.5 amps and uninterrupted) Saves 30-60 minutes installation time when upgrading a mechanical control.
SPECIFICATIONS: Set point Range: -40 to 220 F (-40 to 104 C) Differential Range: 1 to 30 F (1 to 30 C) Supply Voltage: 24/120/208/240 VAC, 60Hz Sensor: Negative Temperature Coefficient with 7.5-Ft. Leads (Maximum length for remote temperature sensing - 400 feet) Control Enclosure Ambient Temperatures Operating: -29 to 140 F (-34 to 60 C) Storage: -40 to 185 F (-40 to 85 C) Control Material Cover and Case: NEMA 1 high-impact plastic Thermoplastic: Non-flammable UL94V0 Switch Action: SPDT Ambient Humidity: 0 to 95% RH, non-condensing.
| | |
| --- | --- |
| Dimension (L x W x H) | 12 x 12 x 12 Inch |
| Weight | 1 Pound |