Solar Water Heater Tank - Solar Storage Tanks

SolStor Solar Water Tanks are North Americas only complete solar water tanks and are UL and CSA certified. Unlike other tank manufacturers SolStor tanks come complete with two large internal heat exchangers and a back up 4.5 Kw electric element ALL In One Tank!. This tank is suitable for all forms of solar heating systems including solar hot water heaters, solar home heating, solar pools and hot tubs! With this tank you can easily expand your solar heating system at any time without new equipment!
Solar water tanks are used in solar heating packages to act as buffer tanks.When the sun is shinning, the water will be heated in the solar storage tank for later use, most commonly in the evening. Most solar water tanks contain a heat exchanger to separate the potable water from the solar heating solution (Water/Glycol), and have a great insulation value that can retain the heat for day. The SolStor tank has a rated heat loss of less than .8 degrees F/ Hour!
There are 3 kinds of solar water tank systems used in North America:
Solar Pre-Heat Tank
Solar Combo Electric Tank
Solar Dual Heat Exchanger Tank
SolarStor Water tanks are North America's Only 3-In-one solar water tanks.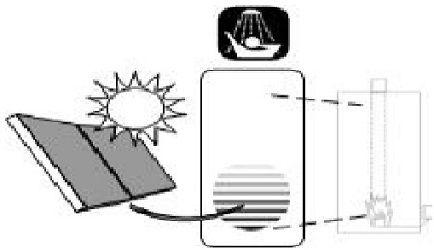 Solar Pre Heat with existing heater
Pre-Heat water for use with existing water heater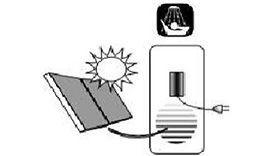 Solar Heater with electric back up
Replaces existing tank comes with 4.5 Kw back up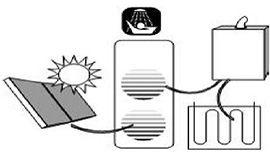 Solar Water with 2nd Heating zone
Top Heat Exchanger can be used for 2nd home heating loop
SolarStor tanks can offer 3 types of Heating configuration for now or Future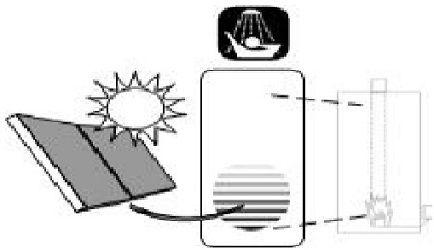 Pre-heat tank for hot water heating
The 1st and most common solar heating tank configuration is a Solar pre-heat tank for hot water heating. This type of solar heating system is used in homes with an existing water heater (electric, oil, gas, tank-less). The pre-heat tank stores the solar heated hot water which is then drawn into the main tank when the hot water faucets are open. This type of system use the large 14 ft2 internal heat exchanger to heat the potable water in the tank. The pre-heat tank heats the otherwise cold ground water before it enters the normal water tank. In this way ground or main line water of approx 35 F can be preheated to say 120 + degrees before entering the primary heating tank. If the heating tank is set to 130 degrees it only needs to raise the water 10 degrees instead of the 95 degrees it would have otherwise had to with out the solar pre heat-tank.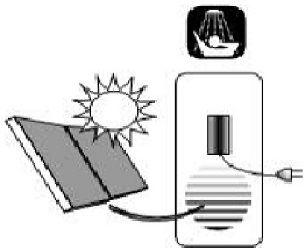 Combo tank with solar and Electric
The second type of solar water heating tank configuration is used as combo tank with solar and Electric. The combo tank uses the built in 14 ft2 heat exchange on the bottom of the tank and also uses the middle 4.5 Kw heater element as back up. The solar hot water is circulated through the solar loop and through the internal heat exchanger heating the water in the tank. The element will then add to, and top up, the tanks temperature to the desired setting. This type of system is great for new homes or replacement tanks. It is important to note that very few solar water tanks found in North America meet UL or CSA certification as a combo tank, as such most European or Asian manufactured solar tanks can not be used with potable (drinking water).SolarStor tanks are 100% UL listed and can be used in any solar application in US or Canada.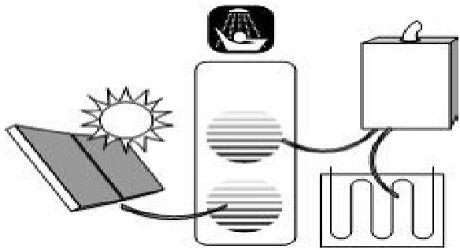 Dual solar heating applications
The final type of solar storage tank configuration is suited for dual solar heating applications and uses both the top and bottom heat exchanger with/without the electric element supplement. In this tank configuration, the bottom heat exchanger heats the water from the bottom, The upper heat exchanger loop is found in the hottest part of the solar tank (hot water rises). This hot water surrounds the upper coil which then transfers this heat to a second heating zone such as radiant floor loop or to a furnace air to water heat exchanger. This type of solar storage tank configuration is designed for both heating applications and/or domestic hot water. In this configuration the customer can still use the electric heating element as it is include on all tanks. This allows customers to use SolarStor tanks as a complete Hydronic Heating System Boiler. However, unlike other boilers, this is supplemented by free solar energy!
Sizing a Solar Water Tank
When sizing a solar water tank you need to consider two important variables. First, how much draw is used per person in the house? An average house hold will consume 20-30 gallons per person. This includes shower bath water, dishes, and laundry. So a family of two will normally require a 40 gallon storage tank as a minimum. Secondly, for each gallon of hot water you need the same number of square feet of collector area. It is very important that you don't exceed this number or you will find that in peak summer months your solar system may reach extreme temperatures. It is better to have a system that is under powered than over powered. Our TZ58/1800-30R solar evacuated tubes have a gross area of 40 ft2. Also, for each collector you will need 40 gallons of storage.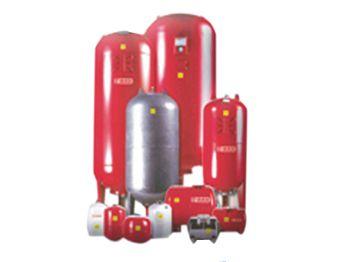 Solar Expansion Tanks
Another type of solar storage tank that is needed and often overlooked is an expansion tank found on the closed loop solar side of the solar heating system. All closed loop solar heating systems must have an expansion tank. Sizing of the expansion tank is very important. Northern Lights Solar Solutions has Italian manufactured Varem Solar Expansion tanks. These are the only tanks that are manufactured specifically for solar heating applications and can withstand higher temperatures than other hydronic style expansion tanks.Learn more on solar expansion tanks by clicking link.
G-GLASS porcelain fused-to-steel is impervious to chlorine and caustics - the ideal water vessel
2" Non-CFC zero ozone depleting foam insulation
Factory installed brass drain valve
Factory installed T&P valve
3-Year tank and heat exchanger warranty - non-residential application
Precision manufactured tank - high quality steel to assure strength and durability
6-Year tank and heat exchanger warranty - residential application
Technical Specs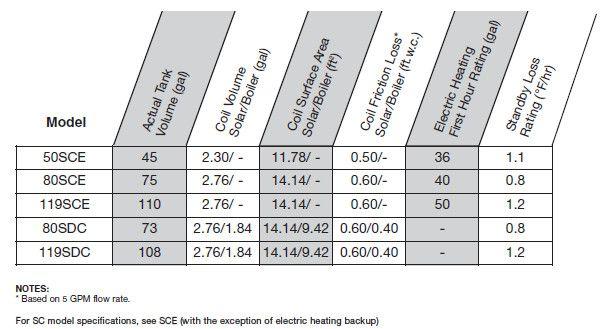 Solar Hot Water Tank with a External Heat Exchanger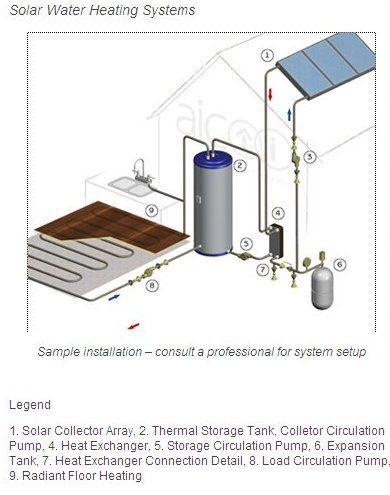 The SolarStor Series of solar tanks are an excellent choice for most solar applications. However, for those on a tight budget, there is a very affordable way to create a solar storage tank using either a new or used electric hot water tank and an external heat exchanger. Electric tanks are perfect for a solar conversion as they have all the ports you will need along with existing safety features such as a thermal pressure release valve and a build in drain valve. A average hot water tank can be purchased for $300-$500 and converted in minutes for under $10 in parts plus an external heat exchanger. To convert a hot water tank we simply remove the two heater elements which are threaded into the tank (1" thread). The top element port will become the supply for the hot water and the bottom heater element will become the draw for the colder water from the bottom portion of the tank.
In smaller systems you can allow thermalsiphon to move the water from the bottom of the tank to the top portion. Thermosiphon is the natural tendency of hot water to rise as it weighs less. As the heat exchanger heats up the potable water, the hot water will rise to the top port and draw in the colder water from the bottom port. On larger systems especially commercial, a secondary pump can be used on the storage side to circulate the water in the tank.
Below are 4 easy steps to covert an electric hot water tank. In this example we have used a heat exchanger as the winter temperatures get very cold and a 50%/50% water and glycol mixture was used in the collectors. However, if you are in a milder climate without hard freezing, water can be used and you can avoid using a heat exchanger, connecting directly to the water tank.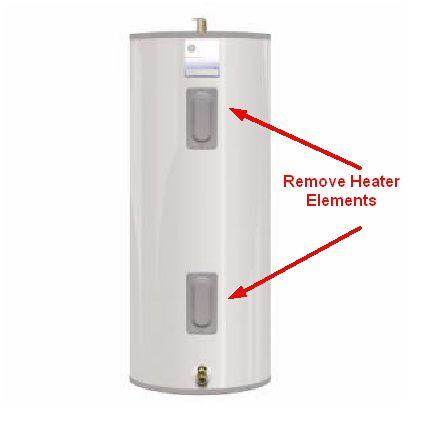 Purchase a new or used electric hot water tank with two heater elements. There will be two covers over each element port, that once removed you will find the hot water elements which screw out.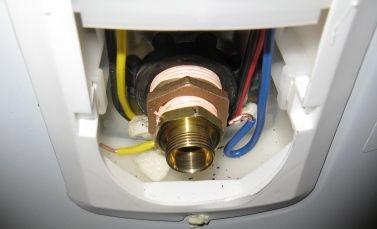 Remove heater element and thread in 1" mpt to 3/4" mpt reducer. These will become the return and supply lines. (top will be supply & bottom return).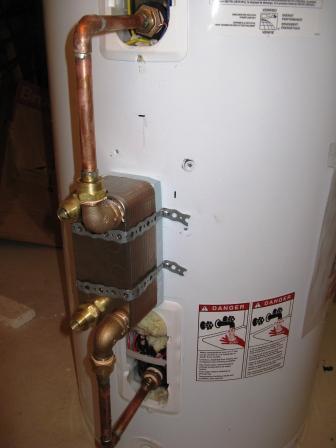 Connect 3/4" mpt to copper or PEX piping according to the size of pipe to be used (recommend 1/2" copper or 3/4" PEX). Depending yes the size and type of pipe you will need to buy a 3/4" ftp connector fittings, found at any hardware store.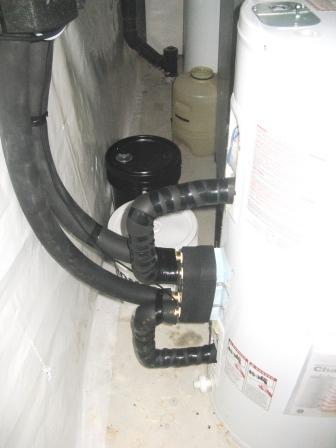 Connect the supply and return to from the solar collector to the heat exchanger (or directly to your ports if no heat exchanger is used). Add insulation to piping and heat exchanger. That's It!