Solar Pool Heat Exchangers
Because of the added chlorine and bromine found in pools and spas and the flow requirements at the pool/hot tub side, flat plate solar heat exchangers are not suitable. A Special high flow pool heat exchanger should be used instead. These heat exchangers can handle the higher secondary side flow as well as the high levels of chlorine and also have better flow characteristics making them ideal for solar pool heating or solar hot tub heating. For applications that use salt water, we recommend the titanium version of the solar pool heat exchanger. This version is highly resistant to salt water and chlorine.
Benefits of Solar Pool Exchangers:
Our Solar Pool Exchanger Line of heat exchangers are designed to perform at high secondary side fluid velocities with low pressure drops.
The have a helical coiled tube design that makes it distinctive from other shell and tube heat exchangers on the market today. This unique design enables efficient heat transfer performance, and allows for diversity in its applications.
To maximize the performance of the Solar Pool exchanger, the product should be installed in a counter-current flow method, as shown below in Figure below. The hot, or heating, fluid flows through the tube or primary side. The cold, or heated, fluid flows through the shell or secondary side.
Example: for swimming pool applications, the pool water is to flow through the shell side, and the boiler water is to flow through the tube side.

Features:
With high heat transferring efficient heat exchanger tubes and smooth shell, it ensures high velocities inside of the unit making the heat exchanger a very reliable, efficient and cost effective way to transfer heat indirectly between any solar heating or boiler circuit and any pool or spa circuit, besides other applications.
Advantages
High efficiency,coefficient up to 14000 w/m2 deg C,Heat exchanging capacity 3-7 times traditional equipments
Compact configuration, occupy small area, one tenth as the traditional equipments
Stainless steel and/or titanium, material, endure high temperature, pressure and corrosion
Helix screw thread elasticity heat exchange bundle, eliminate the stress
Design flux speed is 5.5m/s, less dirt
ASME standard VIII-1
Big flow volume
Easy installation and durable
The Pool Exchanger design parameters are:
Shell Side Pressure: 60 PSI (4 bar)
Shell Side Temperature: 140 F (60 c)
Tube Side Pressure: 150 PSI (10 bar)
Tube Side Temperature: 250 F (120 c)
Please DO NOT exceed these design parameters. Failure to adhere to these parameters may result in equipment damage and/or personal injuries Pool Exchanger Design
The helical tube bundles are available in both Titanium and 316L Stainless Steel. Stainless steel tube bundles should not be used in applications that involve high levels or sea/saltwater. The Titanium tube bundles are recommended in these cases.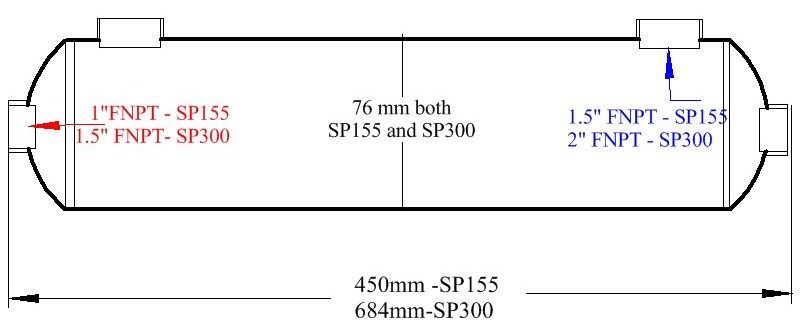 Operating Specifications for Solar Pool Heat Exchangers:
MODEL
Normal Capacity
Hot Water
Cold Water
Flow Rate
Pressure Drop
Flow Rate
Pressure Drop
kW*
Btu/hr*
l/min
USGPM
kPa
Psig
l/min
USGPM
kPa
Psig
Stainless Steel Models
Sol SP155K (.34 M2)
45
155,000
22
5.8
11
1.6
250
66
9
1.3
Sol SP300K (.65 M2)
88
300,000
30
7.9
28
4.1
300
80
19
2.3

Titanium Models

Sol SP155K-Ti (.34 M2)
45
155,00
22
5.8
11
1.6
250
66
9
1.3
Sol SP300K-Ti (.65 M2)
88
300,000
30
7.9
28
4.1
300
80
19
2.3
Applications:
SP 155K is a smaller solar pool heat exchanger that is typically used in conjunction with an existing pool heater and solar. This unit will do a good job of maintaining the water temperatures initially supplied by an auxiliary heat source such as a gas heater. Total Heat exchange surface area is .34 M2 (3.66 ft2)
SP 300K is a larger solar pool heat exchanger that can be used with a larger solar system as the primary heat source. Sizing the pool collectors is important for proper operation of a solar pool heater. Total Heat exchange surface area is .65 M2 (7 ft2)
CONTACT US TO DISCUSS THE SIZING
This email address is being protected from spambots. You need JavaScript enabled to view it.