Complete Retrofit Solar Heating Package SWHr-2
2 x TZ58
1800 30R Solar Collector
Requires SIN or Tax ID for shipping to USA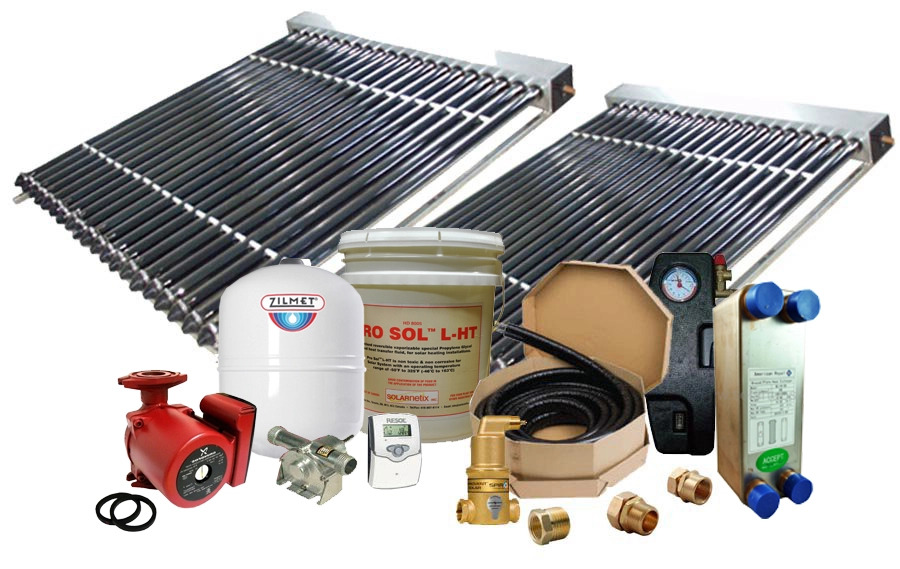 SOLAR WATER HEATING RETROFIT SYSTEM WORKS WITH EXISTING WATER TANK FOR FREEZING CLIMATES
SRCC CERTIFIED FOR 30% TAX CREDIT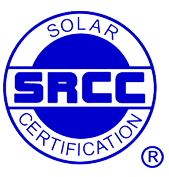 Complete solar heating package for domestic hot water for up to 8 people. These are the most advanced solar water heating kits on the market. Simple to install with no soldering or electrical wiring required. All kits come with every component you will need to successfully install your solar heating system. Includes items such as fill pump for quick pressurization and servicing of the heating system. All kits come standard with RESOL DeltaSol BS+ controller with two relays. Advanced features such as holiday mode and energy monitoring are included.
Freezing Climates - This solar retrofit kit is designed for use year round including cold winter climates. The system will work up to -40 F and uses advanced solar heating fluid to protect against freezing. An external heat exchanger is used to separate the energy from the solar loop and the potable water loop.
2nd Pump - Grundfos circ pump is provide for the water tank and cold water is moved through the heat exchanger gaining heat energy from the solar loop. This allows for maximum heat transfer from the solar to the domestic hot water!
DIY solar heating system's are designed to take the guess work out of solar heating. Modern day vacuum tube collectors can reach temperatures exceeding 400 F, and as such proper sizing and installation is very important. All our kits have been engineered to provide the maximum performance will addressing all safety features.
Pre Heat or Direct - you can run the solar system off your main tank which is called "Direct". However a two tank system where the first tank is preheated by the solar which then feeds to the main tank with back up heat is preferable as there is more mass for the solar to heat. Because the pre-heat tank provides warm water to the main tank, very little energy is used and only when the main tank needs to boost the pre-heat water supply. CAUTION - To avoid scalding a Water Tempering Valve should be installed on domestic hot water side as the supply can be hotter than the water tank's set temperature due to the solar.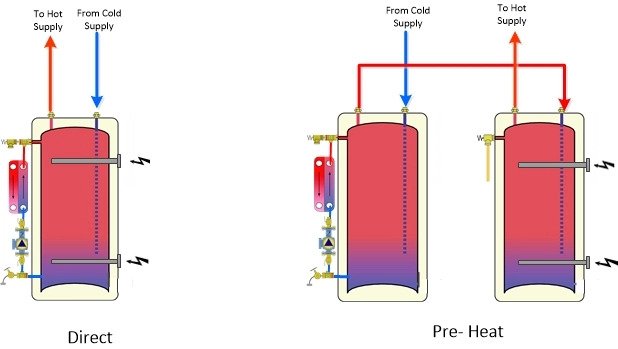 Includes:

2 x SunRain TZ-58 1800 30R Vacuum tube collector
Pump Station with Wilo 3 speed pump and RESOL BS plus digital controller
100 of Aurora Solar Flex 3/4" OD stainless steel piping, pre-insulated and weather proof with sensor wire
all quick connect Aurora Flex Fittings for fast installation (no soldering)
pre-mixed ProSol LH-T high temp (475 F) solar heating fluid for vacuum tube collectors
positive displacement drill pump for filling and servicing
24 liter (6.6g) Zilmet High Temp Solar Expansion tank - Specifically designed for solar heating
Caleffi Solar Air Vent - World's only solar Auto Air Vent!
Stainless Steel Plate Heat Exchanger = 3240 1"
Grundfos Alpha 2 15-55 pump for secondary heat exchanger side
Complete solar installation manual and free technical support
Design Layout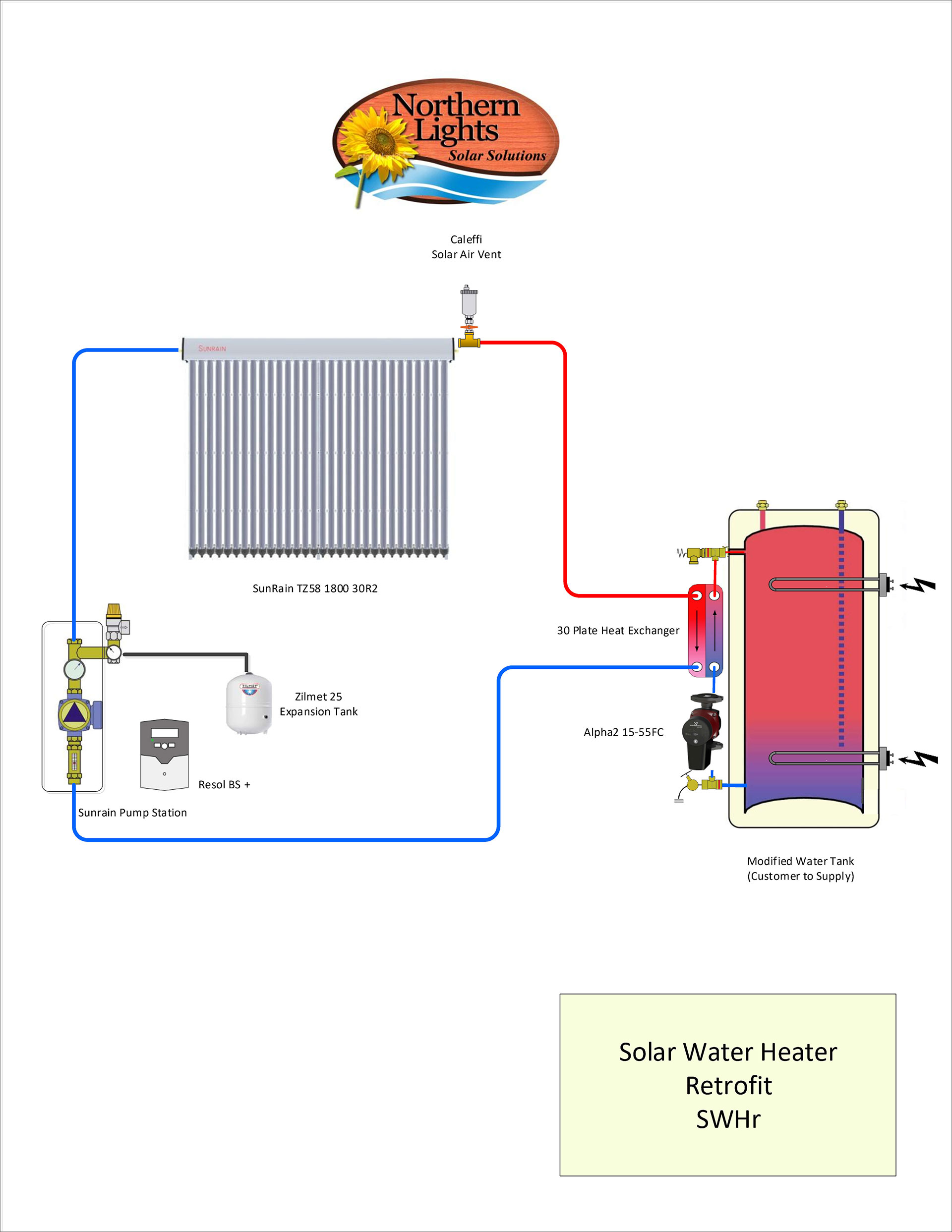 How to Modify Existing Tank - General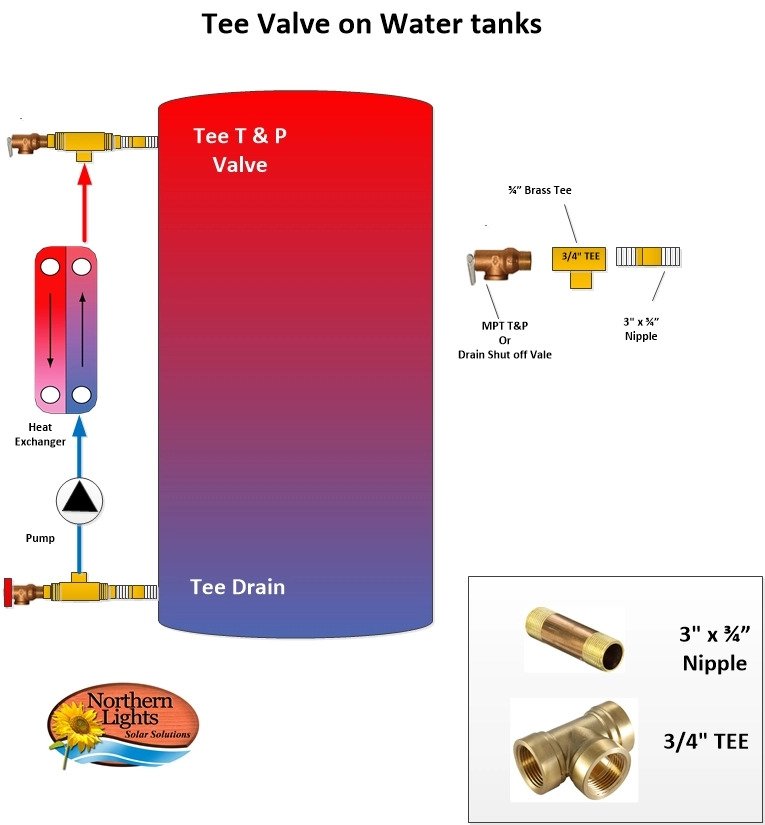 | | |
| --- | --- |
| Dimension (L x W x H) | 12 x 12 x 12 Inch |
| Weight | 400 Pound |